College Football Rewind: Florida State is dangerously playing with fire – CBSSports.com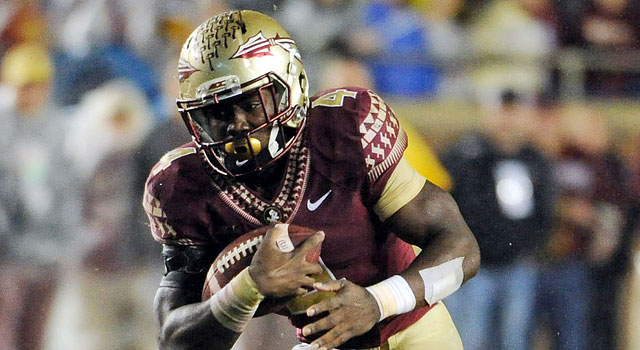 Welcome back to College Football Rewind. This is your first look back at what happened each week and what it means moving forward. Every Saturday night, I will analyze the week's games and the always colorful world of college football. Check back later for analysis of the late games.
Former Texas coach Mack Brown made a curious statement on ESPN after No. 3 Florida State survived again. In Brown's eyes, the Seminoles' tight 20-17 victory over Boston College is perfect for Jimbo Fisher because it will get his players' attention.
The reality at this point is Florida State is who it is. That is, the Florida State Zombies — er, Seminoles — are impossible to kill once they flip the switch in the second half. Don't sell resiliency short.
But this is also a flawed team. (To be fair, there's no great team in college football this season.) It feels inevitable these flaws are going to catch up with undefeated Florida State at some point, whether it's against Florida next week, in the ACC Championship Game against Georgia Tech's option offense that requires disciplined defense, or against much better competition in the College Football Playoff.
The Seminoles have won five games by less than a touchdown. That doesn't count Florida State's fourth-quarter rallies against NC State and Louisville. The past three teams to win the national title (Florida State and Alabama twice) had a combined two games decided by one touchdown or less in the regular season.
There is precedent for Florida State to prevail with so many tight games. Auburn won the national title in 2010 with six games decided by one touchdown or less entering the postseason, though those Tigers faced a more difficult regular-season schedule than these Seminoles.
The more concerning area for Florida State is its on-again, off-again difficulties running the ball and stopping the run. On Saturday, Boston College only attempted 11 passes and ran for 240 yards on 51 carries (4.7 yards per carry).
Late in the fourth quarter, Boston College had a stretch of 14-straight running plays. The Seminoles didn't so much stop the Eagles as they got fortunate Boston College misfired on a trick play and then missed a field goal.
Florida State is averaging 126.6 rushing yards per game (ranked 102nd in the country entering Saturday) and allowing 148.8 yards on the ground (36th entering Saturday). Over the past 10 years, no team played for the national title ranked that low in rushing offense and just two teams reached the championship game with that low of a rushing defense (both Auburn and Florida State in 2013).
The Seminoles have won five games with a go-ahead score in the fourth quarter. The ability to never be out of a game is an impressive trait for a team on a 26-game winning streak.
But Florida State is playing with fire. It feels like the Seminoles are going to get burned at some point.
What We Learned in Week 13
1. Another week, another rushing record. It took 15 years for LaDainian Tomlinson's FBS single-game rushing record to get broken. It took one week for Melvin Gordon's mark of 408 yards to get surpassed. Oklahoma freshman Samaje Perine ran into the record books with 427 yards on 34 carries in a 44-7 victory over Kansas. Perine, who ran for five scores, didn't even start the game for Oklahoma. He is the first FBS player ever to rush for more than 200 yards in both halves of a game. The last time the FBS single-game rushing record was set twice in the same season was 1991 by Marshall Faulk and Tony Sands. This is the year of the running back across the country as records continue to fall. Entering the night games, six running backs ran for at least 225 yards on Saturday: New Mexico State's Larry Rose III, Indiana's Tevin Coleman, Colorado State's Dee Hart, Toledo's Kareem Hunt, Texas State's Robert Lowe and Perine. Running games are running wild in college football.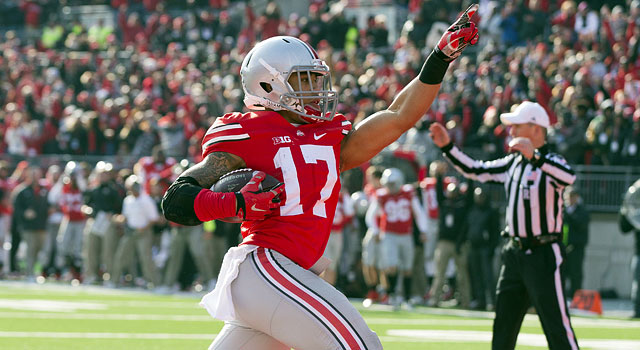 2. Big Ten championship picture is clearer. No. 6 Ohio State clinched the Big Ten East title with a closer-than-expected 42-27 victory over Indiana. The Buckeyes took control near the end of the third quarter with four-straight touchdowns, all of them by freshman Jalin Marshall. One week after Marshall lost two fumbles against Minnesota, he scored on a 54-yard punt return and added receiving touchdowns of 6, 15 and 54 yards. Meanwhile, Minnesota rallied from a 14-point deficit in the third quarter to win 28-24 at Nebraska. The Golden Gophers did without injured star running back David Cobb. The Minnesota–Wisconsin winner next week will meet Ohio State in the Big Ten Championship Game on Dec. 6. Minnesota has back-to-back seasons with at least eight wins for only the second time since 1935. The Golden Gophers' success continues to be good news for No. 5 TCU, which beat Minnesota 30-7 early in the year. No. 7 Baylor doesn't have a comparable non-conference victory, though the Bears have the head-to-head advantage over TCU that could eventually flip the teams' spots.
3. SEC divisions still undecided. For the second straight year, both SEC division races will come down to the final weekend. Prior to last year, both divisions had not been decided in the last week since 2003. In the West, if Alabama beats Auburn, the Crimson Tide goes to Atlanta. If Alabama loses and Mississippi State beats Ole Miss, the Bulldogs go. In the East, if Missouri beats red-hot Arkansas next Friday, the Tigers will go to their second-straight SEC Championship Game after joining the league just three years ago. Should Mizzou lose, Georgia goes to Atlanta. Enough with the "poor Georgia" narrative if the more-talented Bulldogs don't win the East. It's simple: Don't lose twice in the weak East. Missouri could win the division without beating a single team with a winning SEC record. If Missouri wins the division, its opponents would have a combined 16-35 SEC record. Still, all Missouri does is compete for titles after getting mocked by SEC fans when it arrived from the Big 12. Missouri has a chance for its fourth division title since 2007 (two in the Big 12 and one or two in the SEC). Only Florida State and possibly Alabama could have four division titles in that time period.
4. Is UCLA a playoff sleeper? The Bruins didn't just beat crosstown rival USC. They beat down the Trojans 38-20 and have won three straight in the series for the first time since 1998. UCLA and USC have been playing since 1929. This is only the fourth time the Bruins have had a three-game winning streak in the series, compared to eight instances for USC. If UCLA beats Stanford on Friday, the Bruins will win the Pac-12 South and face Oregon for the conference championship. If the Bruins lose, then the Arizona-Arizona State winner on Friday wins the South. With Ole Miss losing to Arkansas, UCLA figures to be the highest-ranked two-loss team in the next playoff committee rankings. The Bruins likely need help. But they're a sleeper candidate to make the playoff if they beat Stanford and Oregon. UCLA would have wins over Arizona State, Arizona, Oregon and USC, plus nonconference wins over possible bowl teams Texas, Virginia and Memphis. Likely? No. But stranger things have happened in college football.
5. Don't forget about Kansas State. Lost in the playoff debate of TCU vs. Baylor is this inconvenient fact: It's still possible neither team wins the Big 12. Kansas State is the third wheel in the three-way tie for first in the Big 12. If TCU loses (and a loss at Texas is possible), Baylor falls to Kansas State, and Kansas State also beats Kansas, it will be Kansas State that wins the Big 12 outright. Jake Waters threw for a career-high 400 yards in Kansas State's 26-20 win over West Virginia.
Stat of the Week I
Arkansas' 30-0 victory over No. 8 Ole Miss means the entire SEC West is bowl eligible — the first time that's happened for one SEC division. The Razorbacks shut out SEC opponents in consecutive games for the first time in their history.
Stat of the Week II
In likely his final home game, Oregon quarterback Marcus Mariota set a Pac-12 record by reaching 42 total touchdowns this season. Mariota broke Matt Barkley's record of touchdown responsibility of 41 set in 2011. Mariota threw for 323 yards and three touchdowns and ran for 73 yards and another score. He has been consistently excellent all year and done nothing yet to lose his status as the Heisman Trophy favorite.
Stat of the Week III
East Carolina wide receiver Justin Hardy became the FBS career receptions leader with 355, breaking the record by Oklahoma's Ryan Broyles, who had 349. Hardy was not named among the 10 semifinalists this week for the Biletnikoff Award, causing American Athletic Conference commissioner Mike Aresco to issue a statement expressing his disappointment in the snub.
Score of the Week
Wake Forest 6, Virginia Tech 3 in double overtime. This woeful contest became the first scoreless FBS game at the end of regulation since 2005 between Arkansas State and Florida Atlantic. Wake Forest (3-8) got its first win over the Hokies since 1983 in a result that will continue to alienate Frank Beamer with his fans. The Hokies (5-6) will need to beat rival Virginia to be bowl-eligible for the 22nd straight year. Meanwhile, Ohio State continues to potentially get hurt by Virginia Tech, which lost by two touchdowns at home to the Hokies on Sept. 6.
Week 14 Questions
1. How healthy is Alabama? The No. 1 Crimson Tide had several players get banged up in their win over Western Carolina, most notably wide receiver Amari Cooper, who left with a bruised knee. Fullback Jalston Fowler, offensive tackle Cam Robinson and defensive end A'Shawn Robinson also suffered injuries, though Nick Saban said he expects them all to be fine. Alabama will be out for blood next week to avenge last year's loss to Auburn. For the seventh-straight year, the Iron Bowl will have national championship implications for at least one of the teams. The last time the Iron Bowl had nothing national at stake? George W. Bush was president, Auburn was reveling in Tommy Tuberville's one-for-the-thumb Iron Bowl winning streak, and Nick Saban was college football's only $4-million-a-year coach (there are now 11). The streak continues next week.
2. Can Mississippi State make the playoff? Saturday was a rare day that Mississippi State fans should have been pulling for Ole Miss. The Bulldogs could have used a top-10 win next week at the Egg Bowl to maintain a spot in the top four of the CFP Rankings. Instead, Ole Miss got routed by Arkansas and looks like a defeated team. Mississippi State may be No. 4 right now, but it's looking like it may need some help to make the playoff.
3. Will TCU survive at Texas? Beware, Horned Frogs. TCU is headed into a hornets' nest on Thanksgiving night at Texas, which has won three-straight thanks to an improved offense. TCU is the more complete team, but the Longhorns have a good enough defense to win this game. Who would have thought before the season that TCU-Texas would be the more compelling game to watch on Thanksgiving than LSU-Texas A&M?
4. Is this the year Dabo Swinney beats South Carolina? Clemson has lost five consecutive games to South Carolina — the Gamecocks' longest winning streak in series history. Steve Spurrier has rubbed it in the face of Clemson fans for several years. Clemson has achieved some successes under Swinney, but one thing Clemson fans want more than anything is to beat the Gamecocks again. Clemson quarterback Deshaun Watson's status is uncertain for next week. The Tigers need him, even against one of Spurrier's worst teams in several years.
5. Should you go shopping on Black Friday? No, no, no, one thousand times no. Friday is setting up to be a very entertaining day of football with divisional races and bowl bids at stake. Start at 2:30 pm ET with Missouri-Arkansas. Then there's UCLA-Stanford and Arizona-Arizona State at 3:30. Finally, there's Virginia-Virginia Tech at 8 in a rivalry game with bowl eligibility on the line for both 5-6 teams.
Quote of the Week
"UCLA owns LA."
— UCLA quarterback Brett Hundley on ABC after the Bruins won their third straight game over USC.